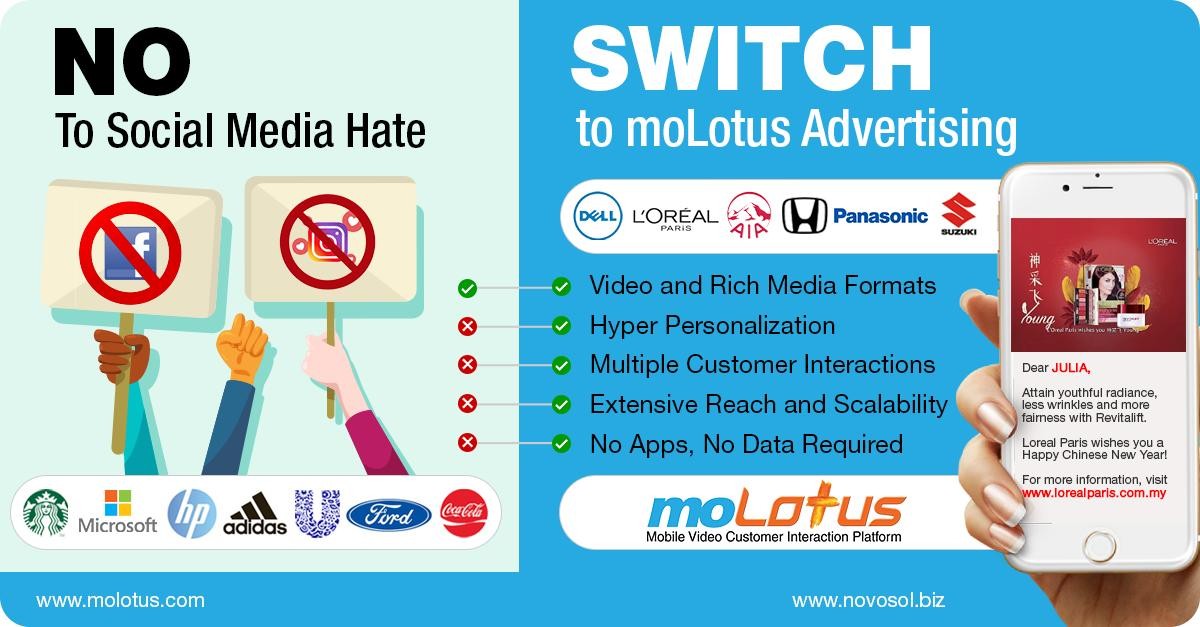 Social media today is a hotbed of hateful conversations and misinformation. Marketers' boycott on social media is gaining momentum. A sizable majority of advertisers, previously spending huge chunks of their budgets on social media ad platforms like Facebook, Twitter, etc., desperately want a suitable alternative. Interestingly, the best alternative lies in moLotus mobile advertising with the number of smartphone users worldwide today surpassing three billion and is expected to further grow by several hundred million in the next few years. (Source: Statista)
moLotus — a breakthrough platform — has revolutionized the mobile advertising landscape by transforming the way brands promote, sell, manage processes, engage their customers and maximize lifetime value. The innovative platform assists the direct delivery of rich media messages to the customer's mobile inbox with a unique brand number, without any app download or an active data connection, playable on all phones. It is spam-fee with no misleading content. moLotus advertising has surpassed social media advertising, with its following powerful capabilities.
1. Extensive Reach & Scalability
moLotus advertising also offers massive reach and scalability; reaching out to the customer database. Further, multiple targeting options available based on business criteria, context, demographics, interaction, etc.
HDFC Bank Net Banking Women's Day Campaign — https://tinyurl.com/y3lfpjyd
2. Hyper-personalization & Customization
moLotus mobile advertising has made headway in the creation of personalized ads with customer names and other relevant information. For instance, brands can run personalized automated campaigns for birthdays, anniversaries, reminders and festivals. The content can be customized according to language, context, and demography.
Lazada Cart Clearance Offer — https://tinyurl.com/yxeakllb
Dell Pro Support Plus — https://tinyurl.com/y6sgcvme
3. Interactivity
The moLotus advertising offers the creation of highly interactive campaigns with multiple response options like SMS, call back and click URL.
Proton X70 Test Drive — https://tinyurl.com/y22tcn5g
CIMB Bank credit card — https://tinyurl.com/y5uj8l77
4. Process Automation & Transformation
moLotus has digitally transformed business processes enabling high margin revenue generation for operators. With its robust automation capabilities, the platform can seamlessly onboard customers, enable mobile document submission, and a lot more. moLotus platform has replaced plastic cards with Mobile Loyalty Cards.
CLUB Panasonic Membership Card — https://tinyurl.com/y4rbros8
CIMB Bank Document Submission — https://tinyurl.com/ybfpdhu8
5. Revenue Generation
moLotus advertising has made immediate revenue generation a reality via specialized campaigns based on upselling, cross-selling, lead generation, etc. It is assisting brands in customer data monetization leading to maximization of top-line and bottom-line revenues.
CIMB Bank — https://tinyurl.com/y5sqblbr
Samsung Galaxy S6 Edge+ Upgrade and Save! — https://tinyurl.com/yy83ft9x
Undeniably, advertising has reached a juncture where it is imperative to recognise the menace of hate, vitriol, and falsities associated with social media and eliminate it by embracing moLotus. Marquee brands are marching ahead generating rich new revenue streams via moLotus.