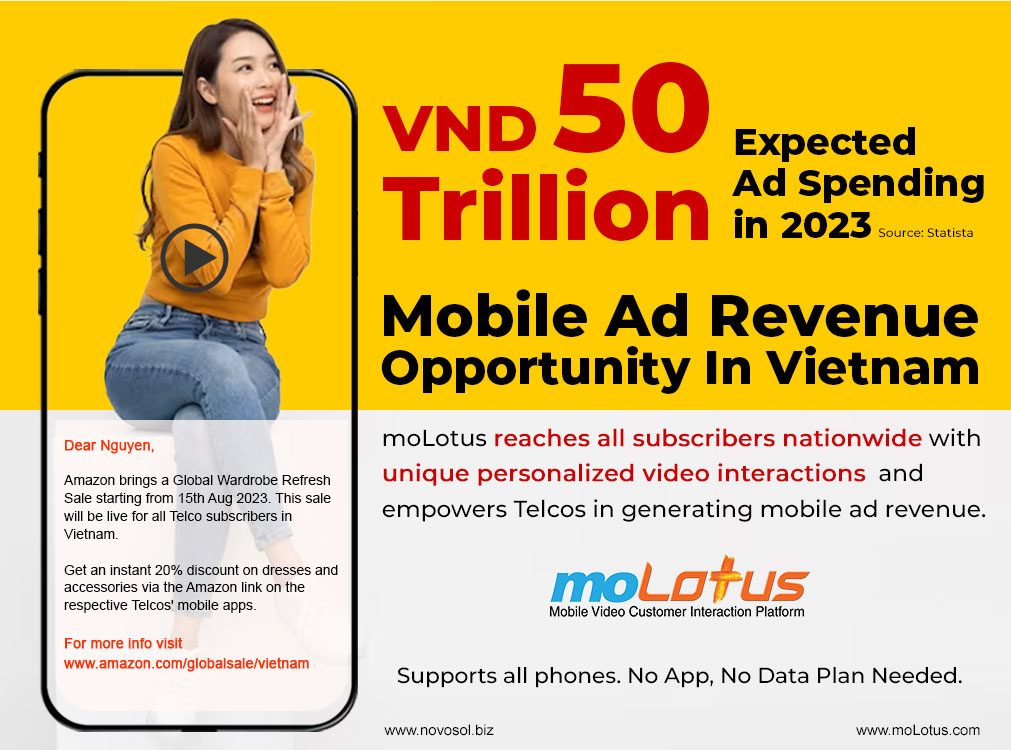 Vietnam's Telecom Market is on a dynamic growth trajectory, with digital advertising spend rising to USD 1.15 billion in 2022 with a Year-on-Year change of 18.5%. Fueled by the National Digital Transformation Program, 5G network expansion, robust mobile penetration (145.8 million connections), and infrastructure enhancements, the telecom sector is set for a remarkable journey ahead.
Leading Telcos in Vietnam, including Viettel, VNPT, Mobifone, Vietnamobile, and G-Mobile, are at the forefront of the industry. They excel in subscriptions, 5G network expansion, and mobile service enhancements. Yet, revenue generation is a pivotal challenge and opportunity in this rapidly evolving landscape.
In this context, moLotus, a mobile video customer interaction platform, a GSM-based technology, is emerging as a potent revenue-generating solution and an all-encompassing answer for Vietnamese Telcos seeking not just survival but resilience and growth. The moLotus technology excels in delivering hyper-personalized, interactive, automated, globally scalable, multimedia messages directly to telco subscribers. No app downloads or data plans needed!
moLotus has established strong partnerships with global telecom giants like Indosat Ooredoo Hutchinson, Celcom, Vodafone, Airtel, Digi, Maxis, and many others. It has a robust presence and a track record of success in countries such as Singapore, Malaysia, India, and Indonesia.
Proven Global Telco Campaigns : https://www.novosol.biz/telco-showcase/
The strategic collaboration with moLotus not only could empower Vietnamese telcos to tap into new revenue streams, navigate challenges, and position themselves for sustainable growth but also propels them into a future of innovative and efficient customer engagement. The moLotus partnership offers Telcos with the Technical Support, Strategy, Marketing Collaterals, Execution, Pre-sales Support, Shadow Marketing and Business Support.
The Vietnam Ministry of Information and Communications (MIC), has introduced the "National Digital Transformation Program by 2025," with an extended vision to 2030. This program is accelerating Digital Transformation by redefining business approaches and offering incentives to drive digital adoption across enterprises, government operations, and manufacturing (Source: GlobalData).
With Vietnam's government actively promoting digital transformation, moLotus is poised to capitalize on emerging digitalization opportunities, enhanced by 5G and overall transformation. It streamlines customer processes, such as payment reminders, loyalty programs, contract renewals, and onboarding. moLotus innovates business models, generating high-margin revenues while keeping costs low, thereby boosting efficiency, speed, and agility.
The rapid growth of Mobile Advertising has presented Vietnamese telcos with a dynamic avenue for revenue generation. According to Statista, mobile advertising spend in Vietnam is projected to reach USD 1.2 billion in 2023, representing a substantial growth of 21.6% from the USD 985 million spent in 2022. However, telcos have yet to fully capitalize on the growing revenue opportunities presented by mobile advertising, making a transition to moLotus a strategic imperative.
Leveraging Telco subscriber data, moLotus targets customers with personalized offers and event greetings, including birthdays, festivals, anniversaries, and more. Campaigns can be customized based on various criteria, including business parameters, languages, demographics, and more, enabling rapid reach to a massive customer base. The technology offers easy interaction options such as SMS, USSD, Call, Web Click, mgram and more.
Subscriber Data Monetization is set to rise considerably in the Vietnamese Telco market between 2023 and 2030. Through moLotus Big Data tools, Telcos can capitalize on insights derived from subscriber actions and preferences, delivering targeted ads, transforming business models, boosting revenues, and enabling informed decisions.
GlobalData's report indicates that voice service revenue is likely to decline in 2023 with decreasing ARPU, as users migrate to OTT platforms. However, moLotus adoption can reverse this trend, potentially uplifting ARPU by 2 to 4%, maximizing Customer Lifetime Value and driving overall revenue growth.
moLotus is disrupting USD 1.7 trillion Global Marketing Spend (Source: PwC) bringing a wealth of expertise in Mobile Advertising, Digital Transformation, Zero-cost Video Interaction, Big Data Analytics, and more. With moLotus steadily penetrating the Vietnamese market, Telcos can seize the opportunity for substantial revenue growth today while building a strong foundation for tomorrow.