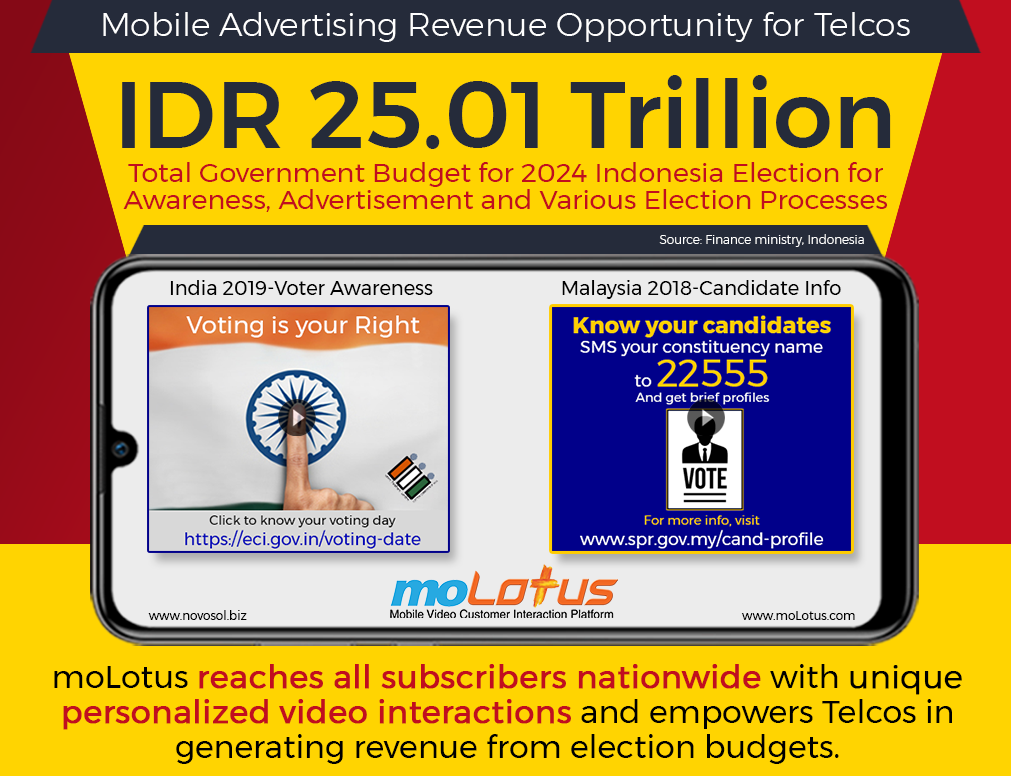 With Indonesia going to the polls in 2024, political parties are gearing up to win the voters. Telcos in Indonesia are preparing to play a crucial role in the election, providing vital communication services to political parties, candidates, and voters.
One innovative technology that could prove to be a game-changer in the 2024 election is moLotus mobile video customer interaction platform; bringing a big slice of political advertising revenues to telcos.
For the 2024 elections, the Government has allocated a whopping IDR 25.01 Trillion. moLotus is going to turn this extraordinary spend into a huge mobile advertising revenue opportunity for telcos.
Here's how moLotus can help telcos in Indonesia make a difference in the upcoming election :
Boost Revenue Generation
The Indonesian telecom industry is expected to see a considerable jump in revenue from moLotus election campaigns with 100X ROI, 10X SMS margins, subscriber data monetization, easy response, and huge scale. moLotus has entered into win-win partnerships with big telcos in Indonesia like Indosat Ooredoo Hutchinson focusing on creation of new revenue streams and catering to 104 million plus subscribers.
Build Nationwide Reach
Voter access and participation is the number one challenge facing political parties, candidates, and government when conducting elections. Telcos can solve this problem via moLotus reaching out to the mobile inbox of millions of subscribers nationwide just in a few seconds irrespective of type of phone or model – basic phone, smartphone, or i-phone. The election campaigns reach without any app or data plan, without spamming the inbox of the subscribers.
Indonesia Election Campaign (Campaign by Nasdem Party targeting Electoral District of North Sumatra 1, Indonesia) – https://tinyurl.com/y2mvl9ln
Drive Voters via Unique Video Interactions
Voter decisions are now made in micro-moments on mobile devices by watching election- related videos. Telcos are poised to take advantage of it using moLotus mobile video campaigns supported by easy interaction options like SMS, Call, Clickable Web Link, USSD, and more.
Telcos can create personalized moLotus mobile videos (up to 40 sec.) with names and other relevant subscriber info; together with formats like Slideshow, Showcase, Brochure, and Greeting in campaigns to capture the attention of the voting audience, educate them, drive voter engagement, combat misinformation, create brand recognition and recall.
Malaysia GE 14 Campaign (Video campaign seeking votes for Pakatan Harapan in Malaysian General Election) – https://tinyurl.com/y343r3wp
Add Authenticity & Credibility
Having proven track record in United States, Malaysia and India elections, moLotus will be more crucial for telcos in promoting party ideology, manifesto, and solutions to Indonesian voters. With moLotus adding credibility to campaigns, telcos can assist candidates in the creation of political fundraising campaigns.
Sanchez For U.S. Senate (William Sanchez, US Senator seeking donation via personalized campaign) – https://tinyurl.com/yalyusmu
In conclusion, the upcoming general election in Indonesia provides a unique opportunity for telcos to leverage moLotus to provide more value to voters, political parties, and government agencies and in turn, earn more.