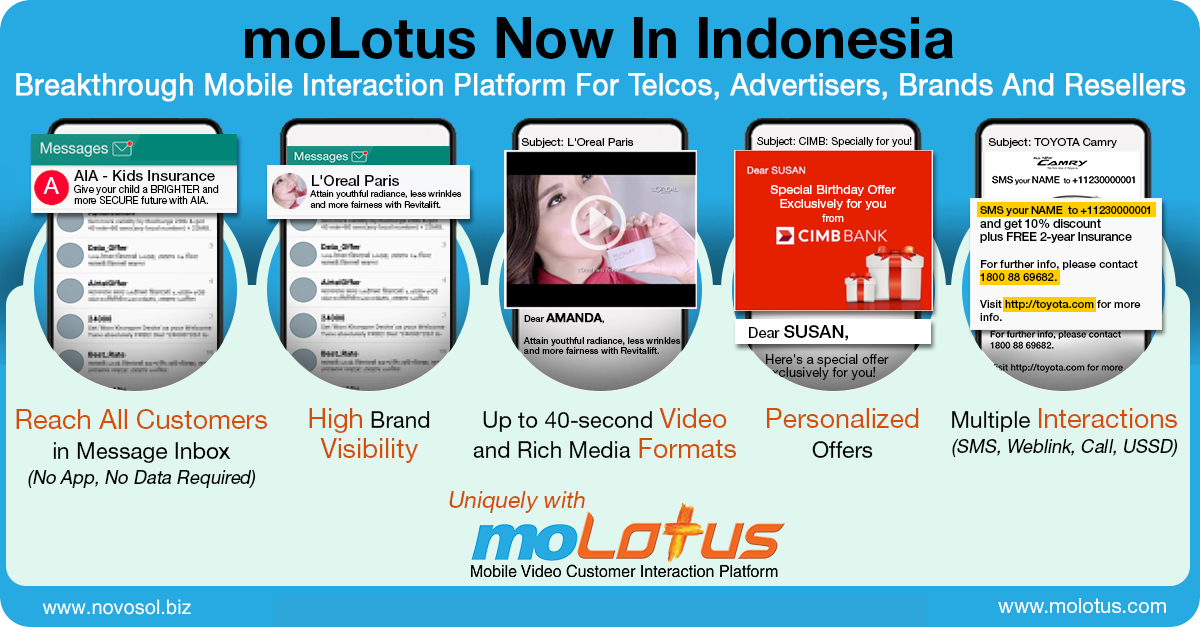 The Indonesian telecom sector is on a meteoric rise, with digital ad spending hitting USD 19.2 billion in 2022 – a staggering 5.02% growth from 2021(Source: Nielson). This growth story is fueled by the widespread adoption of smartphones, 5G technology, and an unshakable government commitment to digital infrastructure.
Front-running Telcos like Indosat Ooredoo Hutchinson, Telkomsel, and XL Axiata are trying to maintain the pace. Yet, the quest for revenue generation in this dynamic landscape remains a formidable challenge and a colossal opportunity.
moLotus, a GSM-based mobile video customer interaction platform, is rewriting the Indonesian Telco growth narrative with innovative, revenue-boosting solutions for Indonesian Telcos, driving resilience and growth.
The new technology is innovating new revenue streams for Indonesian Telcos via mobile advertising, knowledge transfers, digital transformation, subscriber monetization and business support. These initiatives directly address key challenges faced by Telcos, including those related to enterprise revenues, consumer revenues, digitization, agility, and EBITDA pressures.
A groundbreaking collaboration between Indosat Ooredoo Hutchinson and moLotus swiftly evolved into a transformative force, connecting with a remarkable 104 million subscribers across Indonesia. The partnership complements the nation's growing advertising expenditure.
Proven Telco Campaigns : https://novosol.biz/iADs-MGram-showcase/
moLotus is now the top choice across all sectors in Indonesia for boosting brand revenues, widely recognized and acclaimed. From Banking and Insurance to Ecommerce, Consumer Electronics, Automobile, Retail, and even Government Sectors, moLotus is driving innovation and delivering breakthrough solutions to meet the diverse needs of enterprises and consumers nationwide.
Automobile brand Suzuki benefited from moLotus lead generation campaigns generating impressive car leads at competitive pricing. Ecommerce giant Amazon has leveraged moLotus campaigns to boost new subscriber sign-ups achieving remarkable take-up rate and subscriber awareness.
Leading Banks in Indonesia, including HSBC, DBS, CIMB, BCA, Todate, Mandiri, BSI, and UOB, have harnessed the power of moLotus to boost their product revenue generation; enhancing ARPU, leads generation, conversion rates, customer responses, acquisition, retention, engagement, loyalty, upselling, cross-selling (cards and bancassurance), loan offerings, approvals, and maximizing customer lifetime value.
The pursuit of automation, digitization, and transformation is a critical agenda for Indonesia's telecom industry. While the importance of digital transformation is widely recognized, many telecom brands in the country still have a considerable distance to cover in this journey. Several telecom brands in Indonesia are making notable strides towards digital transformation via moLotus. Transformation models powered by moLotus are characterized by innovation, agility, and cost savings. Telcos are seamlessly transitioning to new enterprise business models using moLotus, monetizing their massive subscriber database and mobile infrastructure.
The moLotus technology has become a game-changer for the Indonesian Telcos, offering an ARPU boost of 2% to 4%. Its integration into the telco marketing mix has streamlined campaign planning, development, and execution. It provides big data analytics, easy response mechanisms, scalability, and near-zero cost per interaction, resulting in substantial ARPU growth.
Advertisers, Agencies and Resellers in Indonesia are being empowered by moLotus to leverage the vast Telco data and access nationwide reach. The platform provides a range of rich media formats, such as Video, SlideShow, Showcase, Greetings, and Brochure and hyper-personalized campaigns. Moreover, moLotus offers unique response options like Call, URL Click, SMS, USSD, mgram, and more to facilitate effective customer interaction.
With the 2024 Indonesia election approaching, moLotus is in discussions with several Indonesian telcos, positioning itself as a powerful mobile advertising platform that maximizes voter interaction, education, and engagement.
As more and more Telcos and moLotus unite to boost the digital landscape, one thing is certain: the archipelago's telecom story is a beacon of success, marked by exponential revenue growth, transformation, innovation, and resilience.