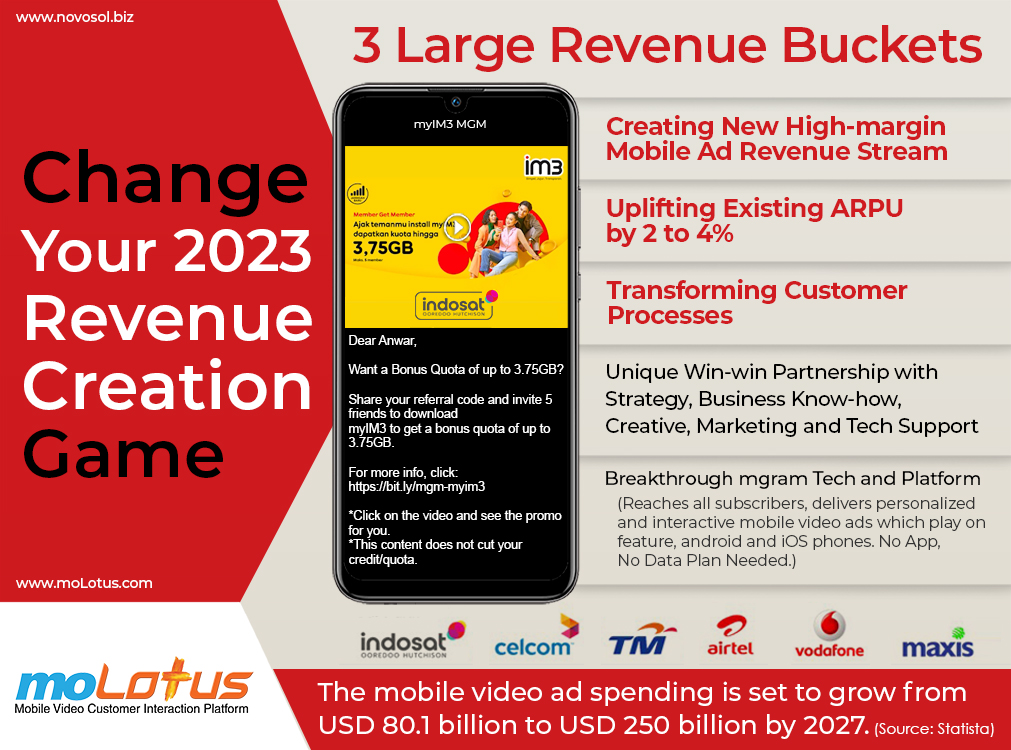 Singapore-based mobile technology leader, Novosol, is making waves in the telecom industry, creating new revenue opportunities for Telcos in a quick span of three months via its breakthrough moLotus mobile video customer interaction platform – a GSM-based technology which reaches out directly to the inbox of all mobile handsets irrespective of phone type or model; no app, no data plans being involved.
moLotus has collaborated with international Telcos, including Indosat Ooredoo Hutchinson, Celcom, Vodafone, Airtel, Digi, Maxis, and more; having a formidable presence and proven track record in Singapore, Malaysia, India, and Indonesia.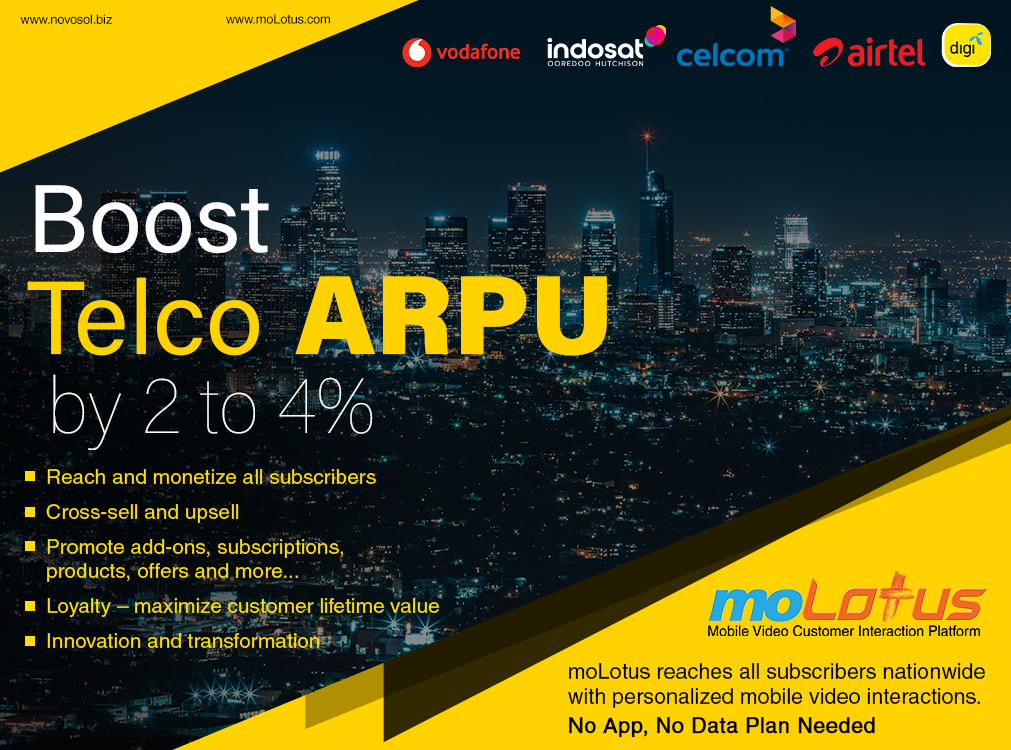 The technology has become a game-changer for Telcos, offering an ARPU boost of 2% to 4%. Its integration into the telco marketing mix has streamlined campaign planning, development, and execution. It provides deep customer insights, easy response mechanisms, vast scalability, and near-zero cost per interaction, resulting in substantial revenue growth.
Telcos are significantly enhancing EBITDA performance at an optimal cost. They are efficiently monetizing their massive subscriber database and mobile infrastructure; transforming customer processes, with agility, innovation and cost savings up to 30%. They are seamlessly transitioning to enterprise business models using moLotus.
According to Statista, global mobile ad spending is projected to approach a staggering USD 400 billion by 2024. moLotus is showcasing an outstanding 20% annual growth in mobile advertising, reaching a vast audience of 8.6 billion global mobile subscribers.
Advertisers, Agencies and Resellers are being empowered by moLotus to leverage the vast Telco data and access nationwide reach. The platform provides a range of rich media formats, such as Video, SlideShow, Showcase, Greetings, and Brochure and hyper-personalized campaigns. Moreover, moLotus offers unique response options like Call, URL Click, SMS, USSD, mgram, and more to facilitate effective customer interaction.
Consequently, moLotus has firmly established itself as the favored option for brands including Suzuki, DBS, HSBC, Amazon, Dell, and Samsung spanning diverse industry verticals, encompassing Banking, Insurance, Ecommerce, Consumer Electronics, Automobile, Retail, and Government Sectors. Its remarkable progress is evident through its expanding presence in new markets such as Vietnam, Thailand, Saudi Arabia, UAE and other middle eastern countries.
Don't miss out on the big mobile advertising opportunity – embrace moLotus today!